How It Works...
Imagine just how worried you'd be to lose your valuable items at home or overseas. Then think how relieved you'd feel to hear they'd been found. That's how membership will help you.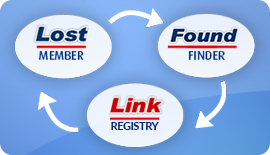 If you've ever lost something like your travel luggage or laptop computer with all your personal items and private details inside, it probably made you feel quite sick and helpless from not knowing what to do or where to turn.
It can be very distressing and usually happens when you least expect it. Suffering the painful experience leaves you wishing "if only there's a way to help me get it back again". Well, we have some good news for you - there is!
The worldwide lost and found membership service
LostFoundLink is the vital link connecting you to the finder of your lost property. It will always be precisely on the spot whenever you lose something and it works 24/365 whether you're around home or travelling abroad.
LostFoundLink communicates with members and finders about lost and found property by email and text or phone as need be. We'll send you the finder's contact details as soon as they report to our free online registry.
It's your safeguard against losing things wherever you go
LostFoundLink return labels give you the best possible chance to locate and recover your property - regardless of where it is lost or found in the world. So be sure and put the labels on all your personal belongings. If the worst should ever happen your things will be positively identified - and quickly traced back to you.
LostFoundLink packs have 20 hardwearing labels that stick well on clean dry surfaces, all with your own unique number - plus 4 strong tags for luggage, keys, etc. You will also get a membership/emergency/assistance card to carry with you at all times - plus you'll have unlimited use of our service throughout the year.
Apply for a protection pack and worldwide membership now
LostFoundLink labels direct all finders - individuals, police and lost & found officers - to report finding your lost property to our free online registry. It's quick and easy for finders to use, plus they can report at anytime around the clock and from anywhere in the world - and you'll get the information from us straight away.
LostFoundLink recovery assistance is the fastest way known and will put you directly in touch with the finder, no matter where you both live around the globe. You'll immediately discover the precise location of your lost property, enabling you to get it back as soon as possible - instead of maybe losing it forever.
Enjoy all these great benefits for less than a cup of tea per week
• Exclusive membership • Worldwide coverage • Unlimited service use • Year round safeguard

• Unique protection pack • 24/365 assistance • Free finders' registry • Peace of mind always
Join many happy members worldwide!
Membership is ONLY US$49/YEAR including your protection pack and global delivery
Subscriptions are renewable each year to keep your membership up to date
There is no contract to worry about and you may cancel at any time
Sign up today! What have you got to lose?